Becoming one organisation
The Centre for Evaluation and Monitoring (CEM) became part of Cambridge in 2019, being jointly owned by Cambridge University Press and Cambridge Assessment. Since then, Cambridge University Press and Cambridge Assessment have announced that they will work together as one organisation.
We're really excited to be able to share what being part of Cambridge means to you and your school through improvements to our assessments, support services and research.
In the last two years, we have been working to add value to what we do through the amazing portfolio that Cambridge offers.
But first, some exciting news about CEM! We wanted to show that we are part of the Cambridge community as well, so from 1 February, we have a new logo.
A new logo!
We're still CEM, but we're celebrating our link to the Cambridge family through the Cambridge University Press and Assessment logo. You will see our new icon on our website and social media and in our email signatures.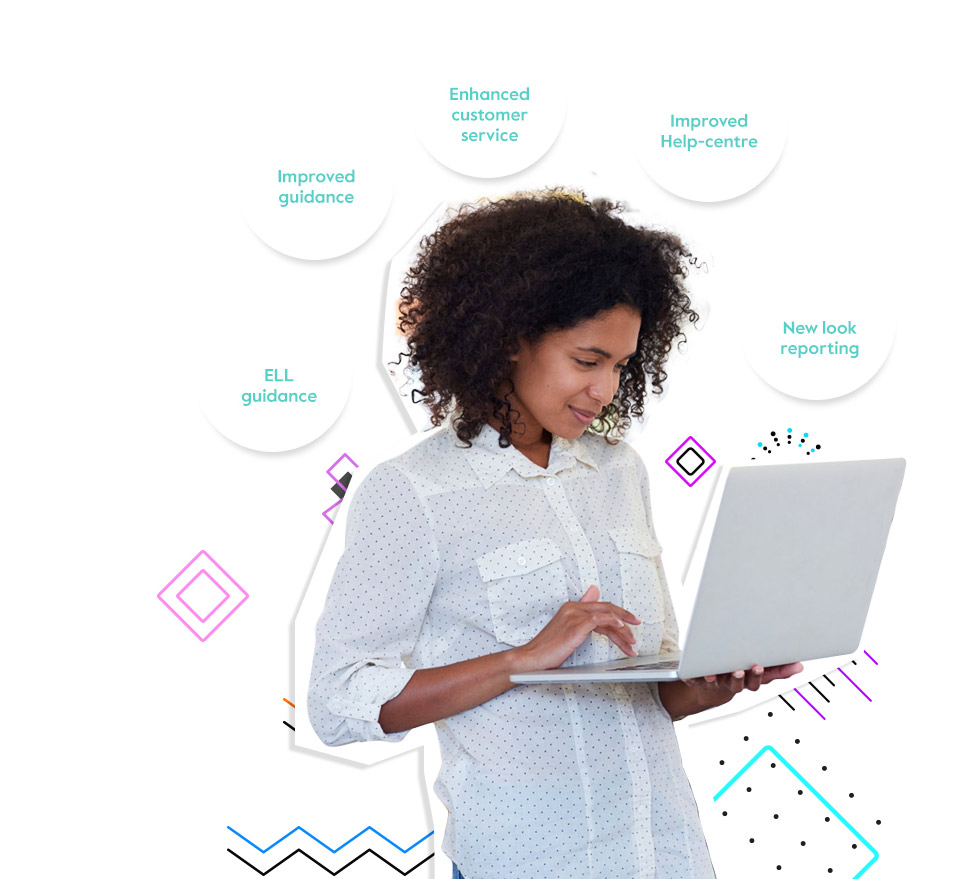 New product enhancements.
What started off as a personal small-scale research project in 1982 has since developed into a whole series of assessments for schools across the world. We've built our innovative computer-adaptive assessments, and fairer admissions assessments, based on data, research and evidence.
We want to keep developing and creating – working with you to bring new ideas around formative assessment to life.
You asked, we listened. We're making improvements that you've told us are the most important to you.
In the past few months, we've developed new, visual reports that are easy to understand, filter, and share with colleagues – to make sure you get more from your schools' assessment data. New guidance to help your second language learners make rapid progress. New school comparison reports so you can clearly see your schools' true potential.
We are also really excited to share that coming soon are two new products: a wellbeing check for primary and secondary schools, as well as a range of professional development options. Sign up here to be the first to know about these products.
You can also find out about more recent product enhancements on our What's New area.
And we need your input. If you have a great idea about how we can develop and improve our products and services, we'd love to hear it. Explore our co-creation hub to get involved. After all, we are here to help you get the most out of your school data.
You can also subscribe to our blog and our updates to get the latest information about our improvements and new products.
0
Assessments used to standardise
0
Years with our school partners
Helping you get the most out of CEM assessments.
We have been working hard to improve the service we provide to you. You don't just have the expertise of CEM colleagues to help guide you through CEM assessments, you now also have a bigger team in Cambridge to rely on. We now have a larger customer service team so that we can answer your phone and email queries more quickly and efficiently. We also introduced an online help centre – so that you can find the guidance you need to get all your assessments up and running, all in one place, at your fingertips when you need it.
Backed by research.
From the start we have ensured that what we do is backed-up by research and has theoretical underpinnings. In 2021, Dr. Irenka Suto joined CEM as Assistant Director of Assessment to head up CEM's research department. Dr. Suto has re-energised our research to help us continue to improve and develop our assessments – explore our learning during lockdown research in the Cambridge University Press & Assessment Research Matters publication. Find out more about Dr. Suto's research background here.
We believe in the power of data. With forty years of data and increasing data points by which to base our products, reports and research, we're excited about our future with Cambridge.
It is never too late to run a CEM assessment to find out where your students are at (especially after so much disruption in 2020 and 2021). Buy your assessments for 2022/2023 now.
New email addresses.
We're adopting @cambridge.org email addresses. We want to make it easy for you to get in touch with Cambridge, whichever part of the organisation you use. Some of our emails might come from our familiar @cem.org email addresses for a bit longer – but it will be easy to know who is getting in touch as you will see the new CEM logo on our communications to you.
Our website URL – www.cem.org – will be staying the same, as will our social media (although with a new look logo of course), so make sure to bookmark them to keep in touch.